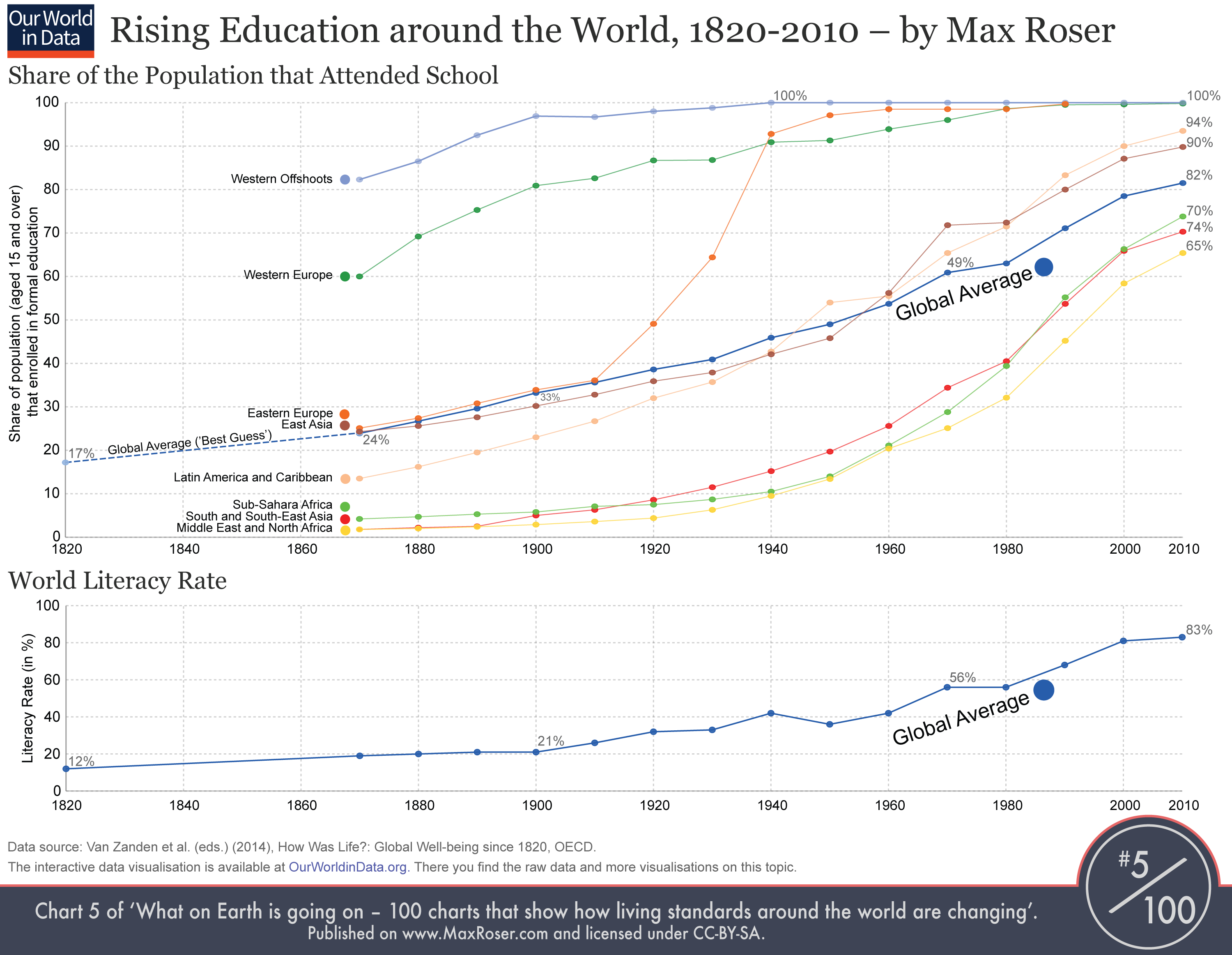 What this chart shows:
Looking at the graph on the top we see that in 1870 more than 3 quarters of the world's people never had the chance to go to school. Looking at the graph at the bottom we see that this meant was that a similar small share – 19% – of the world were able to read.
The low average figure of education attendance hides huge inequality between world region. While in Europe and the Western Offshoots in North America and Oceania more than half of the population had attended school in 1870, the share was much lower in other parts of the world: In Africa and South-East Asia more than 90% of the population never went to school.
Today the global average has risen to 82% and the inequality between world regions – while still existing – is much lower.
Two centuries ago only a small elite of the world had the ability to read – the best estimate is that 12% if the world's people were literate. Over the course of the 19th century this number more than doubled. And over the course of the 20th century the world achieved rapid progress in education. More than 4 out of 5 people are now able to read – and from my map at OurWorldInData we can see that it is mostly older people that are illiterate. The young generation is much better educated than ever before.
The much better education of the world population is what makes me most optimistic about the future.
Data Sources:
The data for world average literacy and formal education by world region are from van Zanden, J.L., et al. (eds.) (2014), How Was Life?: Global Well-being since 1820, OECD Publishing. Online here.
The attendance of at least some formal education refers to the population aged 15 and older.
The interactive version of the chart at the top is available in the data entry covering the global rise of education.
The chart at the bottom – and much more on literacy – can be found in the data entry on literacy.