Funding for OurWorldInData will end in December 2015. This is my plan to continue OurWorldInData.
What it is
OurWorldinData.org is my freely available web publication that tells the social, economic, and environmental history of our world up to the present day – based on empirical data and visualized in interactive graphs and maps.
But have a look at it yourself to see what it is about:
– 1st Example: The most peaceful time in our species existence. One of five click-through presentations.
– 2nd Example: The data entry on child mortality. It is showing the development of child mortality over the long run and is one of dozens of similar data-entries on a wide range of topics.
The way so far
December this year: The funding will end and while the team and I are very enthusiastic about extending this work it is unclear whether this project can continue.
Impact
Since I went online in June 2014 more than 1,000,000 people have visited OurWorldInData.org.
As the map shows, visitors came from all countries of the world except Eritrea and Western-Sahara. (There would have been more visitors but unfortunately the small server cannot handle the traffic at peak times.)
On social media material from OurWorldInData.org was seen more than 50 million times.
From the feedback I know that the content of OurWorldInData is widely used in teaching and lectures.
More than 100 articles portrait the project or used material from OurWorldInData. All are listed at: www.ourworldindata.org/media-coverage.

Media outlets using OurWorldInData include The Washington Post, Forbes, Slate, The New York Times, Vox, The Guardian, The Financial Times, La Presse (French), Business Insider, Rue 89, Scientias, Bild am Sonntag (German), and TIME Magazine.
Why I am looking for funding
OurWorldInData should give a complete picture of how living conditions around the world have developed over the long run. It aims to cover the whole range of topics that matter for our lives: Health, food provision, the growth and distribution of incomes, violence, rights, wars, energy use, education, environmental changes and many other aspects will be empirically analyzed and visualized.
Because our hopes and efforts for building a better future are inextricably linked to our perception of the past it is important to understand and communicate this historical development. Studying our world in data and understanding how we overcame challenges that seemed insurmountable at the time should give us confidence to tackle the problems we are currently facing. It is easy to be cynical about the world and to maintain that nothing is ever getting better. But fortunately the empirical evidence contradicts this view. I believe it is partly due to a lack of relevant and understandable information that a negative view on how the world is changing is so very common. It is not possible to understand how the world is changing by following the daily news – disasters are happening in an instant, but progress is a slow process that does not make the headlines.
I believe it is important to communicate to a large audience that technical, academic, entrepreneurial, political, and social efforts have in fact a very positive impact. OurWorldInData shows both: It highlights the challenges that lie ahead and it shows visually that we are successfully making the world a better place.
For each topic the quality of the data is discussed and, by pointing the visitor to the sources, this website also is a database of databases. Covering all of these aspects in one resource makes it possible to understand how the observed long-run trends are interlinked. Combining interactive visualizations with explanations of what drives the observed changes and what they mean for our lives provides an empirical view on our world.
A free web publication that aims to brings academic research on human development to a wider audience is not the kind of project for which research grants are awarded (the focus is not to produce original academic research but it is about communicating the amazing research that is already out there). This is why I am trying to find future funding this way.
OurWorldinData.org is based at the University of Oxford and supported by the senior researchers Sir Tony Atkinson and Sir David Hendry.
The open access web publication is published by academics at the University of Oxford and we are collaborating with experts in the field to publish rigorous research that meets the high standards of the University.
To achieve this we are looking for funding to focus on the following aspects:
1 – Expand the coverage substantially!
There are many aspects of living conditions that we care about and OurWorldInData should show what we know about them and how they changed over time. Some are often talked about: life expectancy, war, famine, literacy, homicides, … Others are less often talked about but equally important: human height for example is an indicator for the quality of food supply and health, and a high volatility of food prices is a serious problem for poor people. OurWorldInData has a lot of topics to cover!
The main reason why I want to continue to work on this free web publication is to expand the content: I have data on more than 400 topics and only a fraction are covered yet. For example, right now we are working on an empirical perspective on cancer and on suicides. Two of the many important topics not covered yet.
With more funding we want to cover more topics. To get more researchers involved to create and review this project we look for funding.
2 – A proper database that allows the web publication to always be up to date
One of biggest problems of the current technical framework of OurWorldInData is that each visualization has to be done individually: A spreadsheet with the data has to be prepared and you then have to write a page of html and javascript to visualize the data stored in this file. This means a lot of manual work to add one visualization and it is also very cumbersome to update figures with new data.
Zdenek – who joined earlier this year as a web developer – has started building a system that will eliminate this tedious, not-scalable process. He is essentially creating two tools: A first tool that allows us to upload data into one central SQL database (as opposed to the current system of individual unconnected csv files). And a second tool with which we can then pull any of the data from this database and visualize it in an interactive chart (see my screenshot of the tool). This is the heart of the whole project and will require more work in the coming year.
With the transition from one-spreadsheet-for-one-individual-visualization to one central database we open up huge possibilities for both us as authors and for the readers. Currently I can only show some countries on an individual chart (on a line chart for example it is not possible to discern more than ±8 lines) all the other countries' data is not included in the visualization.  With the new tool it will be possible for the reader to pull the information for additional countries from the database and add them to the visualization. The reader can then build her own charts or maps.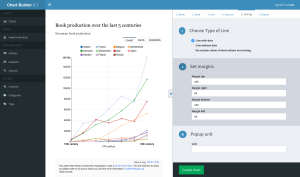 3 – Review by and collaboration with experts on specific topics

One of the most positive experiences we have made over the last months is how helpful experts from various backgrounds were in providing feedback to OurWorldInData.
Most of the researchers providing feedback were from the University of Oxford but we also received feedback from a wider network of people interested in this project. The chance to incorporate feedback continuously is one of the greatest advantages of an online publication. Researchers themselves have been very motivated to provide both their data and feedback; not surprisingly researchers are keen on presenting the research they care about to a larger audience.
In the future we want to extend this collaboration and turn OurWorldInData into a collaborative publication: It will become a publication in which the expert on famines is presenting an overview of the history of famines and the research on why famines happen and when famines are less likely to happen. Similarly, the expert on war writes about his research topic, and so do the experts on malaria, on child mortality, on CO2 emissions, on democratization, on homicides, on wealth inequality, on income inequality and so on.
The feedback and collaboration with other researchers at the University of Oxford and other academic institutions will ensure that the presented information is the best data available and the revisions will make sure that the presented content is up to date.
We are aiming to establish an editorial board from expert in each field to improve this collaboration and review process. Our role model here is the Stanford Encyclopedia of Philosophy – a fantastic freely available web publication with an editorial board with subject editors.
4 – Filling in the gaps
We know a lot about how the world has changed and most of what is presented on OurWorldInData is presenting this evidence gathered by empirical researchers. Yet there are also gaps and it is then not possible to rely on research that is already out there. Instead it is necessary to do research to fill in the gaps.
I have done this before – for example for the article on famines I have put together a list of famines since middle of the 19th century. With the help of a group of empirical researchers I am planning to do more of this so that we get a complete empirical picture of our world.
5 – Long-term Prospects of this Project
We are already thinking about the prospects of this project beyond the end of the 3 year period for which we are looking for funding.
Positive discussions have been had with an institution at the University of Oxford which would be likely to look favorably on support for the ongoing maintenance of the site after the end of the founders 3 year investment.
In our current work we are having in mind that it should be possible to keep the web publication up to date for the coming years and decades. Data sets are standardized and well documented and we are making sure to build a content management system with which the publication can be maintained easily.
The idea is that the 3-year grant supports us in lifting it to the next level, and that the University of Oxford provides the means to maintain the web publication and keep it up to date after the funding ends.
The funding we need:
Our current 1 year research grant ends in December. For the work outlined above I am looking for funding for 3 additional years.
The costs include:
Staff costs:
I will continue to work full time on this project and to do the most of it I will work with the 3 Oxford students that will contribute to the content of the project and 2 web developers to publish our work with the technology of the 21st century.
Sir David Hendry and Sir Tony Atkinson will remain the Principal Investigator and adviser of the project. We are in the very fortunate position that both are mostly paid through the University but are at the same very generous with their time in supporting this project.
Non-Staff Costs
Server space
Computer software
Research travel expenses (small amount)
We are also in the very fortunate situation that the research institute at which this project is based – The Institute for New Economic Thinking at the Oxford Martin School – contributes to the office space and computer equipment and that administration will be carried out by the excellent staff at the institute.
I will send you a detailed budget for the project on request.
Thank you very much for reading this request! Please get in touch if you are interested in supporting this project.
My email address is .
Best wishes,
Max